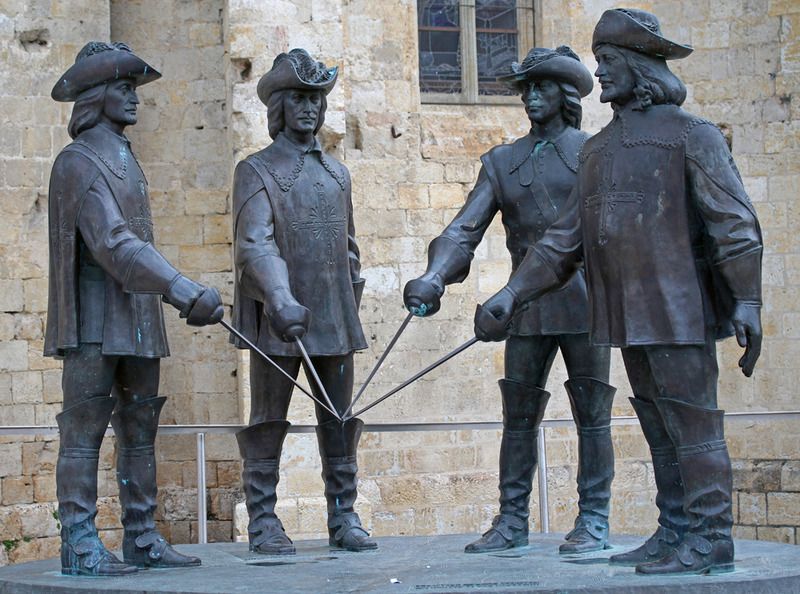 Condom (Gers) avril 2015 - Sculpture signée

Zourab Tsereteli
Condom en Armagnac/Condom-sur-Baïse, un des deux centres historiques avec Eauze de la Ténarèze , un des trois terroirs de la région de France où la distillation de l'armagnac a lieu.
On ne peut bien sur échapper au "Un pour tous! Tous pour un!" vous l'aurez bien deviné.
On reconnait les personnages des
Trois mousquetaires d'Alexandre Dumas
: d'Artagnan le courageux, Athos le sage, Porthos le fort et le bon vivant et Aramis le poète.
A cape and sword novel
Condom in Armagnac/Condom upon Baise, one of the two centers of the Ténarèze: one of the three terroirs (plantation areas) in the Armagnac region of France where grapes for the distillation of the Armagnac eau-de-vie takes place.
We can't escape the motto ""One for all and all for one!" when we speak about

"The three musketeers" by Alexandre Dumas

(author of The Count of Monte Cristo.)
One can recognize: the courageous d'Artagnan, the sensitive Athos, the strong and reliable Portos and the poet and faithful Aramis.