Donneville, Haute Garonne, mai 2016
Ci-dessus l'église Saint-Pierre-et-Saint-Paul, avec son clocher mur du 13ème siècle, située dans le charmant village de Donneville avec ses 1 105 habitants, à 30 minutes de Toulouse.
A Sunday outing like no other one
Above the Saint Pierre et Saint Paul church with its bell gable dated to the 13th century and located in Donneville, a charming village with a population of 1,105, a 30 minutes' drive from Toulouse.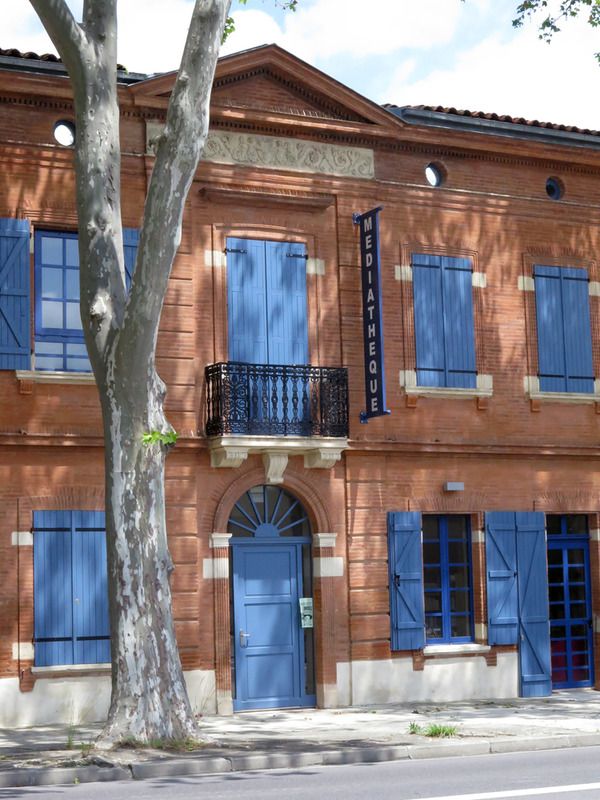 Une association qui regroupe 27 bibliothèques du Sud-Est toulousain
« Le Lecteur du Val »
remettait les prix résultants d'un concours d'Art Postal basé sur dix mots de la langue française.
Marcelle
, une blogueuse de longue date m'avait gentiment demandé de la représenter pour recevoir son prix.
« Le lecteur du Val »

, an association of 27 libraries, was giving away prizes following a Postal Art contest based on ten words chosen by the different French-speaking countries.

Marcelle

a long time blogger friend had asked me to receive the prize she won in her behalf.
Un défi que de traduire en anglais les dix mots : "chafouin, fada, poudrerie, dépanneur, lumerotte, dracher, ristrette, vigousse, tap-tap et champagné."
Quite a challenge and an attempt here to translate these ten words in English:
chafouin: slyly,
fada: inane/foolish,
poudrerie: blowing snow,
dépanneur: small convenience store,
lumerotte: minimal light source/a fruit or vegetable emptied and carved in which on puts a light,
dracher: heavily raining,
ristrette: espresso/ristretto,
vigousse: strong and resistant,
tap-tap: collective taxi highly decorated with naïve art,
champagné: an influential person.
Le même jour la médiathèque organisait un atelier occitan, une visite de l'église, des ateliers de pliages de livres et de dessins/ombrages au crayon de têtes de chevaux ainsi que de deux conférences avec pour thème « Les chemins de Saint Jacques. »
Une après-midi fort réussie avec un retour vers Toulouse sous la pluie battante…
*Pour plus de détails et de photos sur ces fameux « dix mots » et l'exposition des enveloppes ici sur
Addendum
.
The same day the library was organizing an occitan workshop, the church's visit, a bookart tutorial, a horse coloring workshop as well as two conferences about the Way of St James with a lot of tips.
It was quite a busy afternoon before returning to Toulouse under a heavy rain.
*For more details and more pictures about theses famous "ten words" and Postal Art please switch to Addendum.
Derrière la médiathèque un vieux pigeonnier /An old dovecote behind the multimedia center